HOME >
Kyorin university hospital TCC [English]
Kyorin University, Department of Trauma and Critical Care Medicine
Kyorin University, Department of Trauma and Critical Care Medicine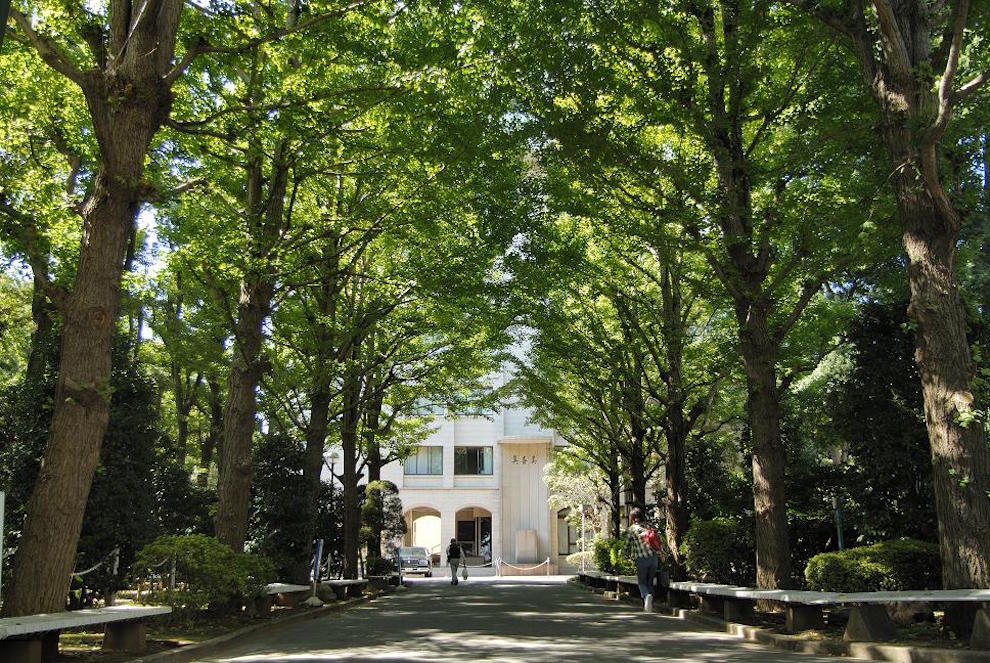 Department of Trauma and Critical Care Medicine and the emergency and critical care center, Kyorin University were established in October 1979. While responding to the changing era and social needs and accepting various critical patients in the western part of Tokyo Metropolitan around 40 years, we have grown to become one of the best advanced emergency and critical care centers in Japan.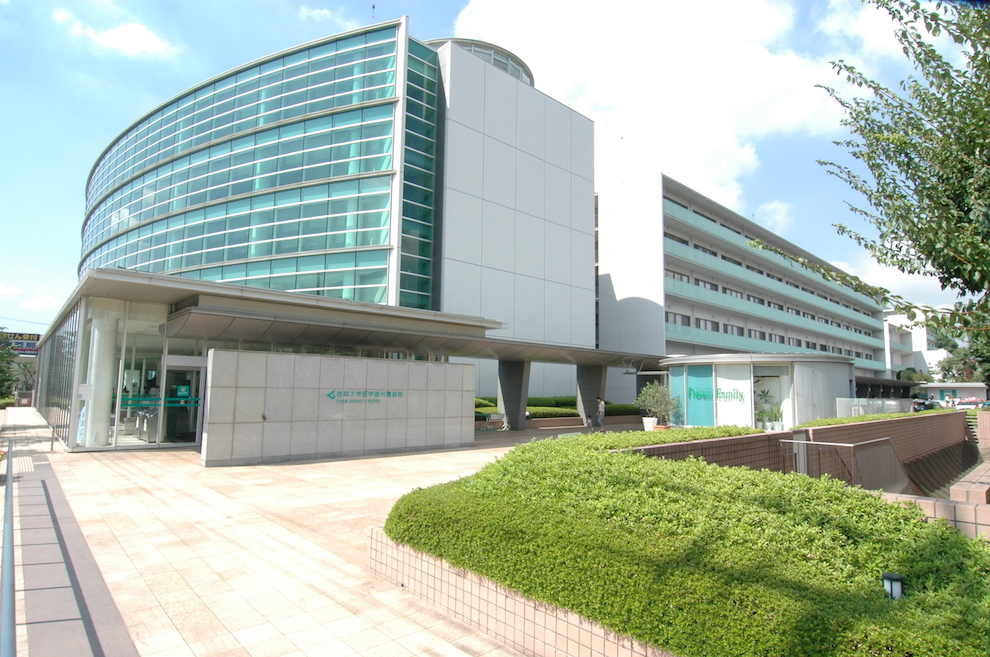 In the recent emergency medical system in Japan, the " ER (emergency room) -style system like in North America " is prevalent, in which emergency physicians do only initial diagnosis and treatments, and cares after hospitalization including surgeries or specialized treatments are done by doctors from various specialties, not by emergency physicians. Although Kyorin University Hospital also introduced this system to relatively-mild emergency patients our team has maintained the " conventional tertiary care system", in which we perform all the cares needed, such as initial diagnosis and treatments, operations, other specialized treatments, and intensive care till patients' transfer or discharge. While another department in our hospital is taking care of relatively-mild emergency patients, our department focuses mainly on critical patients.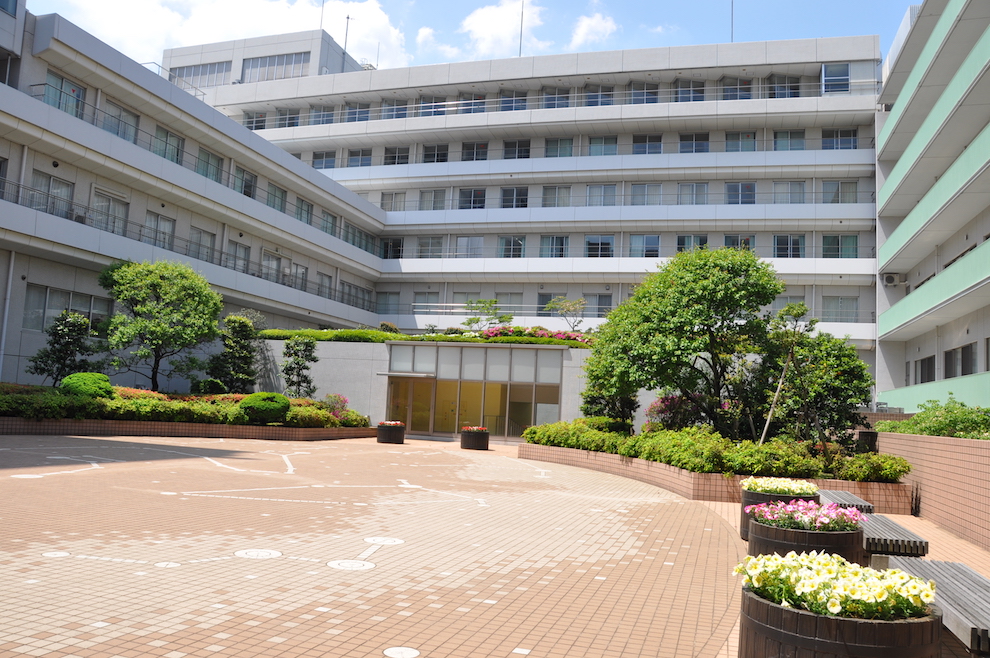 The most representative characteristic of our department is the "diversified sub-specialties". While complying the program of new medical specialist systems, we aim to train young doctors to have knowledge and skills beyond the territory of emergency medicine by dispatching them to various specialized fields relating to emergency medicine. We are convinced that it is possible to improve the quality of our performance by sharing knowledge and techniques which we have learned in each field and by raising overall abilities of our team.
Chief professor – Yoshihiro Yamaguchi, M.D., Ph.D.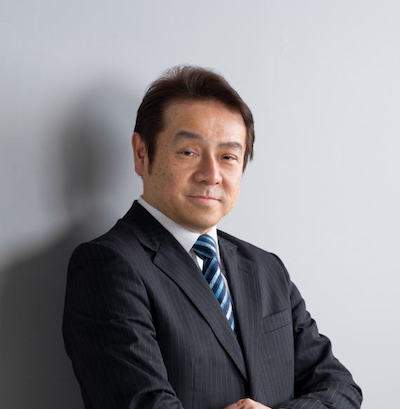 "History of our department"
"To be the top emergency center in Japan", this was the past goal of the emergency and critical care center, Kyorin University. Speaking of "What are the elements needed for Japan's best emergency center?", they are overwhelming clinical ability, achievements, and outcomes. And those seem to have been achieved already. We always rank the top, in terms of 40,000 total emergency patients, 10,000 ambulances, and 2,000 tertiary emergency patients a year, in the emergency and critical care center ranking of the Ministry of Health, Labor and Welfare. Regarding outcomes, we have got top-level evaluation for such registries as trauma, poisoning, and sepsis. Moreover, we have shown overwhelming achievements in burn care; LD50(Lethal Dose 50%)s of %TBSA (Total Burn Surface Area) and PBI (Prognostic Burn Index) in our center are 80% and over 130, respectively, while those in other facilities participating the Tokyo Metropolitan Burn Association are 40% and 100, respectively.
"The meaning of top in Japan for us"
These are the achievements of previous professors, historical legacy, and our valuable assets. However, the meaning of "top in Japan" for me has something more than those things. It is the quality evaluated for the team itself. I have been working in several emergency medical centers at home and abroad , and I believe that there are no emergency centers where mutual trust among staffs are stronger , and every staff respects each other as a specialist more strongly than ours. The staffs in an emergency medical team must be back up each other and struggle to fight a number of enemies like "Seven Samurai" and "Water Margin". In this sense, I am proud that my team is the best in Japan.
"Our three goals"
The first goal is "Innovativeness". We must be proud of practicing the medical field which mainly focuses on saving lives and contribute to the innovation for carving out that field. One example is the trial for future burn and trauma treatment with mesenchymal stem cells, another is the development of an electrocardiogram analyzing system during cardiac massage.
The second is "Quality". For example, we are applying very low invasive treatment strategies for trauma, while pursuing functional outcomes. Even for very severe burn patients exceeding LD50 (lethal dose 50%), we try not only to save lives, but to pursue functional and cosmetic outcomes in consideration of their lives after recovery.
The third is "Public Nature". What are the real causes of the disruption in emergency medicine, or in entire medical fields? What is the problem with "Triage" that became a hot topic in the Akihabara mass-casuality incident? It is the emergency medicine that plays an important role in connecting the society with the field of medicine, because the emergency medicine has a lot of social aspects. We would like to be a group of physicians who can speak properly in our own words.
"Let's go together, with us"
While many other emergency and critical care centers in Japan are struggling to recruit new staffs, many young and passionate doctors have joined our team. Why don't you become a member of us to be a doctor proud of the way of your life to your family members, your spouse, and your children?
"Main activities related to disaster response"
1995.4 Participation in The Harvard Forum on Disaster at Harvard University, USA
1996.4 Participation in the Mass-casualty program in the Boston Marathon, USA
1997.2 Philippines International Emergency Medical Assistance Training (WHO)
1999.10 In charge of treating patients in the Tokai Village nuclear accident
2000.2 US Department of Energy REAC/TS, Radiation disaster training, USA
2000.3 Participation in the special disaster training at Tripler Army Hospital, Hawaii, USA
2000.7 Medical assistance in the Kyushu-Okinawa summit (Trauma-team)
2002.7 Advanced HAZMAT life support training in the American Society of Clinical Poisoning, USA
2003.2 Great British Disaster Response Training(MIMMS), United Kingdom
2003.8 Accident response for chemical weapons abandoned by former Japanese Army, Qiqiharu,China
2004.10 Medical response in the Niigata Chuetsu Earthquake
2004.11 Investigation for the Mihama Nuclear Power Plant Accident
2008.7 Medical response in the Hokkaido Toyako G8 Summit (in charge of national leaders) 2010.11 Medical response in the 22ndAPEC Summit Meeting (in charge of national leaders)
2011.3 Leading the water injection mission for the Fukushima Daiichi nuclear power plant Unit 3 (in the collaboration with Tokyo Fire Department)
2011.4-8 Chairperson, Fukushima Daiichi Nuclear Accident Medical Committee (Japanese Association for Acute Medicine)
2011.8 Medical assistance for the petrochemical factory explosion and fire accident, Khabarovsk, Russia
"Clinical practice"
The Advanced Emergency and Critical Care Center in Kyorin University Hospital has 30 intensive care beds and 3 tertiary care rooms and is called "TCC" by taking the initials of Trauma and Critical Care.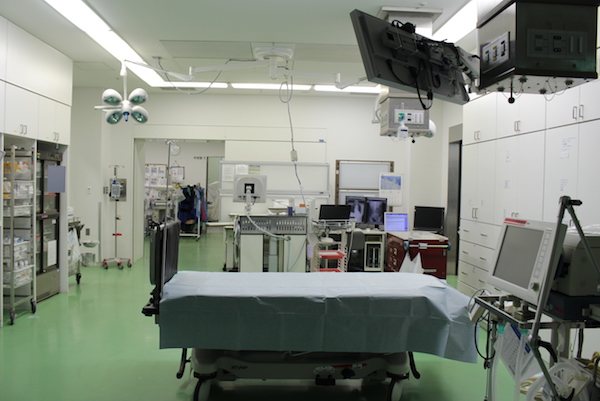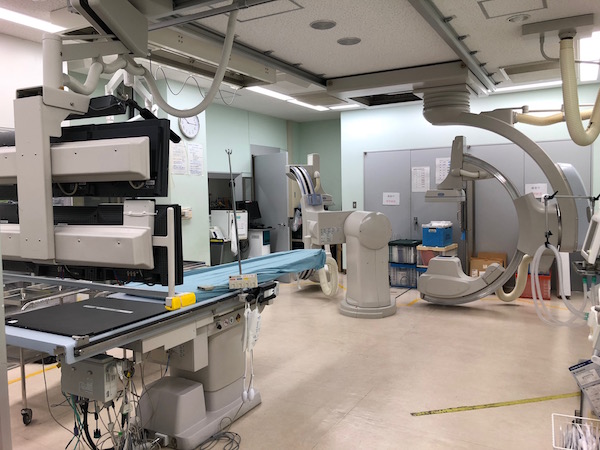 The Advanced Emergency and Critical Care Center in Kyorin University Hospital has 30 intensive care beds and 3 tertiary care rooms and is called "TCC" by taking the initials of Trauma and Critical Care.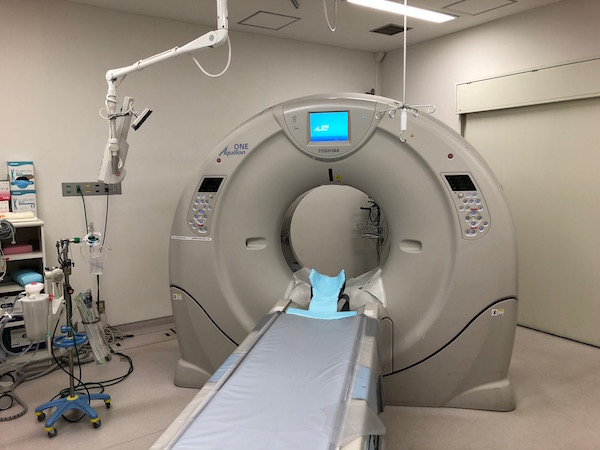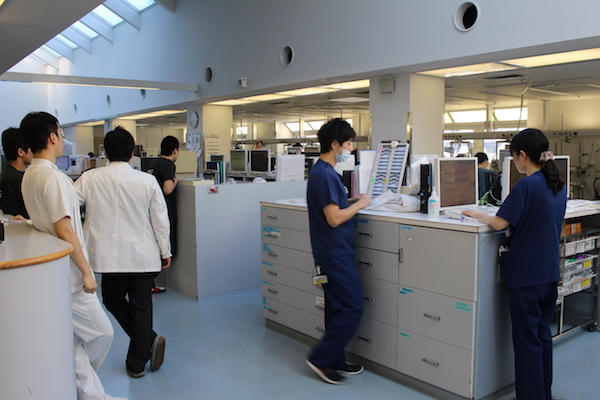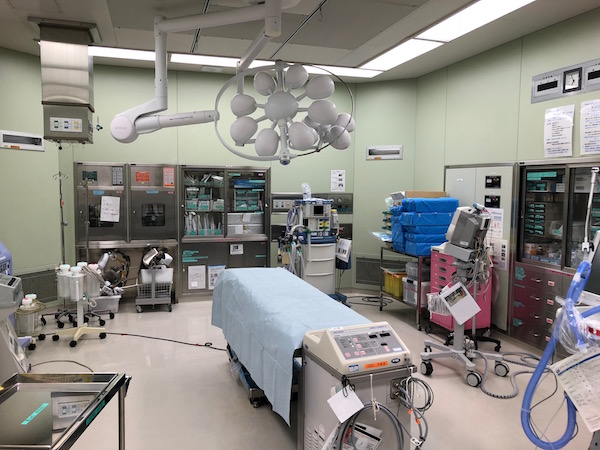 In addition, we deploy a high-precision CT with 320-row detector in our facility, and we can also perform whole-body CT scanings for severe trauma patients and CT-guided puncture drainage for abscesses, etc.
"Research"
Emergency medicine should be acknowledged not only by clinical practices but also by academic contributions, and it is our mission to establish that status. The true significance of the advanced emergency and critical care center is not to faithfully fulfill already established theories and guidelines, but rather to advance them even inch by inch to try to save lives bravely that could not be saved yesterday.
Based on these ideas, we are conducting cutting-edge researches in various fields. Taking "burn treatment" as an example, multi-angled studies are under way: basic research for developing novel therapies by utilizing regenerative medicine, clinical one evaluating burn surface areas and depths by image processing technology, and one on the network construction for wide range transportation of severe burn patients with helicopters. And for successfully conducting those researches, we are collaborating other institutions: Harvard University (Surgery / Public health), Keio University (Information engineering), Tokyo Metropolitan University (System engineering), Osaka Medical College (Regenerative medicine). Those collaborations are also a strength of our department.
In addition to these original researches, we are participating as one of the core facilities in multicenter collaborative researches led by Japanese Association for Acute Medicine (Sepsis registry)and TheJapanese Association for The Surgery of Trauma (Japan Trauma Data Bank). We are also involved in the planning for future multicenter studies.
It is our attitude towards conducting researches to perform a pioneering "grandstand play", while fulfilling our own responsibilities as a player in important team plays, with a view of the future for emergency medicine.
"Education"
The department of Trauma and Critical Care Medicine, Kyorin University School of Medicinefocuses on educating and training young doctors, as well as lectures and bed side lerning (BSL) for medical students, which are our duties as doctors working in a teaching university hospital.
"Education for fellows/senior residents"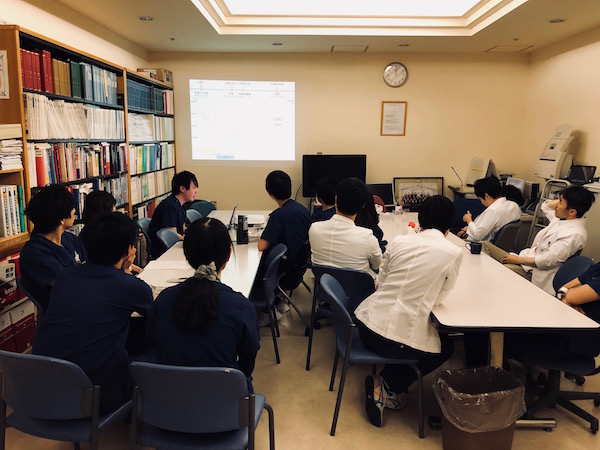 In our department, we regularly hold minilectures or educational meetings for young doctors, or senior residents, learning in the new medical specialist program. We think senior residents must be concerned about working in critical emergency situations and wondering how to efficiently learn a lot of knowledges and skills in a limited time.
In the lectures at the beginning of each year, we mainly focus on basic contents relating to critical cares, aiming to acquire basic knowledges and skills in the fields of emergency and intensive care. In addition, we are also planning very unique lectures from sub-specialty fields such as surgery, orthopedics, radiology, plastic surgery, and so on, which you cannot take anywhere else.
"Education for junior residents"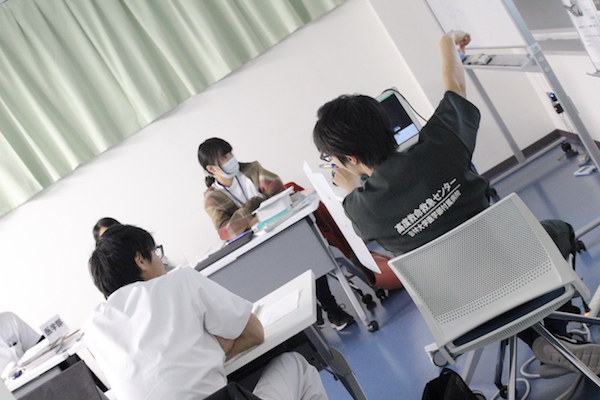 In the clinical training course for junior residents at Kyorin University Hospital, it is essential for them to have two-months training in our department in the second year of their residency We hold educational meetings twice a month to teach them knowledges necessary for emergency and intensive care. We are planning those meetings for them to systematically understand physiological essentials such as respiration, circulation, and nutrition. There are also opportunities for junior residents to do a presentation about one of the cases which they treated under the supervision of their senior doctors, which will be the good exercise for future presentations in academic conferences.
"Off the job training"
Our department hosts the ICLS (Immediate Cardiac Life Support) course for young doctors and BLS (Basic Life Support) classes for new workers in our hospital, while we also conduct JATEC (Japan Advanced Trauma Evaluation and Care) courses as out-of-hospital activities. And our staff doctors not only host courses above but also join or instruct in other off-the-job training courses, such as DMAT (Disaster Medical Assistance Team) training and J-MELS course, which is a maternal life-saving course.
"Staff"
| | | |
| --- | --- | --- |
| name | position | specialty |
| Y Yamaguchi | Chief Professor | Disaster Medicine, Trauma surgery |
|   | Director of TCC center | General surgery, National seculity |
| T Tarui | Professor | General surgery, Sepsis |
| Y Kaita | Assistant Professor/Department manager | Burn surgery, Plastic surgery |
| Y Miyakuni | Assistant Professor/Chief of OPD section | General surgery, Trauma surgery |
| M Otawara | Assistant Professor | General surgery,Trauma surgery |
| H Morinaga | Assistant Professor | IVR, Radiology |
| Y Mochida | Assistant Professor/Chief of ICU section | Cardiovascular surgery, Trauma surgery |
| S Ogino | Assistant Professor | Psychiatry |
| K Ochiai | Assistant Professor | Thoracic surgery |
| T Igarashi | Assistant Professor | Cardiology, Disaster medicine |
| K Yoshikawa | Assistant Professor | Burn surgery, Plastic surgery |
| C Kunugi | Assistant Professor | General surgery, Trauma surgery |
| S Hamada | Assistant Professor | Orthopedic surgery |
| T Sakamoto | Assistant Professor | IVR, Radiology |
| J Suzuki | Assistant Professor | Burn surgery, Plastic surgery |
| S Sasazawa | Assistant Professor | IVR, Radiology |
| K Iwashita | Staff | General surgery |
| A Otsu | Chief Resident | Infectious diseases |
| W Osakabe | Resident |   |
| H Nishimura | Resident |   |
| M Horino | Resident |   |
| T Konda | Resident | |